Wine Tours Adelaide
With Adelaide being among the Great Wine Capitals of the World, it is no wonder you are considering wine tours in Adelaide. But there are so many options for wine tours from Adelaide and for good reason…South Australian wine is amazing! And not to mention, there is plenty of it. With more than 200 cellar doors and 18 wine regions, it takes some serious dedication to experience all that SA has to offer. Ultimately, when time is limited, you need to make a choice. So which wine tour should you go on and which region should you visit?
To help answer that question, we have picked some of our favourite places for wine tours from Adelaide. We have too many favourites to mention them all; likewise it depends on the tastes of your group. And for that reason we offer personalised state-wide touring. The regions we have picked below are nearby to Adelaide (generally about an hour drive), therefore where we offer daily touring. So hopefully it helps to give you a sense about each unique destination.
Wine Tour Prices
Up to 8 people in our multi lux 8 seater:
Adelaide Hills 7.5hrs from $580*
McLaren Vale 7.5hrs from $580*
Langhorne Creek 8.5 hrs from $680*
Barossa Valley 8.5 hrs from $680*
South Coast 8.5 hrs from $680*
*prices include 10% GST
Adelaide Hills Wine Tours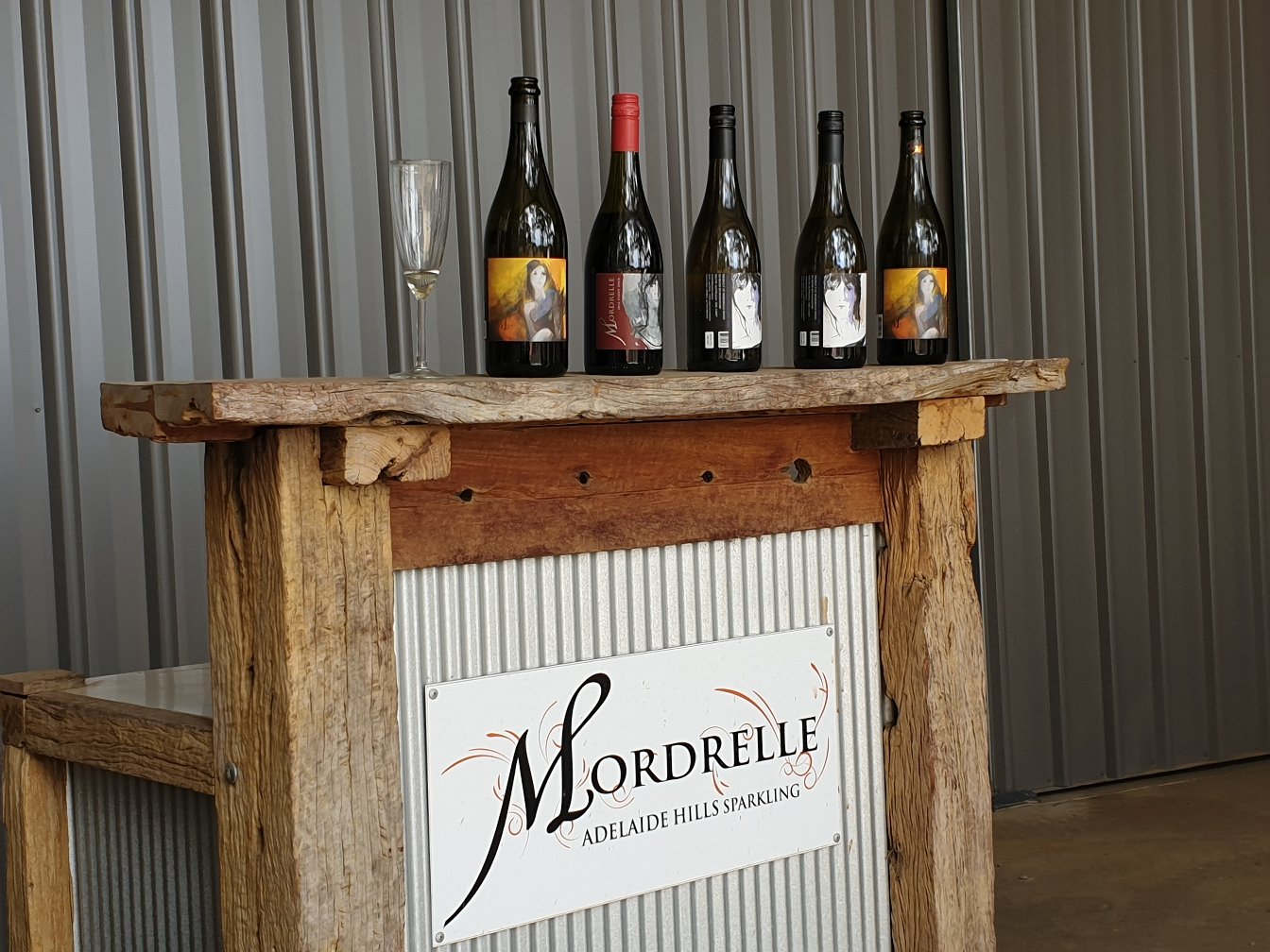 Mordrelle Wines is one of our favourite spots to visit on our Adelaide Hills wine tours. All good wines have a label to match but Mordrelle Wines' labels are more special because they are the artwork of Martin's father, Jose Luis Moran. 
Wine Type Grown

60% white wines
40% red wines
Top Wine Varieties
Chardonnay

Pinot Noir

Sauvignon Blanc

Shiraz
Adelaide Hills Wineries
We may be a little biased, because we are based out of the Adelaide Hills, but you just can't go past the ambience of the Adelaide Hills. It is beautiful any time of year. Which we can take for granted living in it, but sharing it is so rewarding.
The Adelaide Hills is one of Australia's best cool-climate wine regions, just minutes from the city. Adelaide Hills cellar doors that you need to experience include Mordrelle Wines,  Deviation Road, Unico Zelo and Between the Vines. For new emerging (alternative) varieties seek out ArtWine. 
For a place that offers more than just wine, think Kersbrook Hill Wines & Cider. Or for a beautiful Adelaide Hills winery lunch that we love try Anderson Hill.
Although they don't have wine, Ambleside Distillers is one of our favourite tour stops – the experience here is second to none with stunning views of the Adelaide Hills. If you book in advance and have a small group, their gin masterclass is exceptional too…how could it not be? You get to make your own gin to take home!
For more details on the Adelaide Hills wine region, visit Adelaide Hills Wines or Adelaide Hills.
You can view our full and half day wine tours on southaustralia.com but we are always happy to personalise a tour for you. Who better to show you the secrets of the Adelaide Hills, than a local?
Barossa Valley Wine Tours
Barossa Valley Wineries
The history of this region is extensive with many wineries now onto the sixth generation still producing wines. The climate is warm summers and mild winters as result mostly red wines are produced here. Notably, the Barossa is well-known for their Cabernet and Shiraz.
Among our top picks for cellar doors to visit include Charles Melton Wines, Rockford Wines. They aim to keep "the best of the traditional Australian wine trade alive". For a place that also has a restaurant, we like Hentley Farm. While for relaxed all day dining, visit Chateau Yaldara where they produce hand-crafted wines. Or if you are looking for somewhere to stay within a beautiful winery setting, Kaesler has three cottages adjacent their cellar door and Yalumba has luxurious on-site retreat accommodation.
A trip to the Barossa wouldn't be complete without going to one of the regions most recognised brands, Seppeltsfield. Especially if you like Tawny; each year they release 100 years aged Tawny. It is the legacy of Oscar Benno Pedro Seppelt that started in 1878. Not to mention that they also have food and accommodation.
For more details on the Barossa Valley wine region visit Barossa or Wine Australia.
If this sounds like the region you had in mind, come take a wine tour from Adelaide with us and let us share the Barossa Valley with you.
Langhorne Creek Wine Tours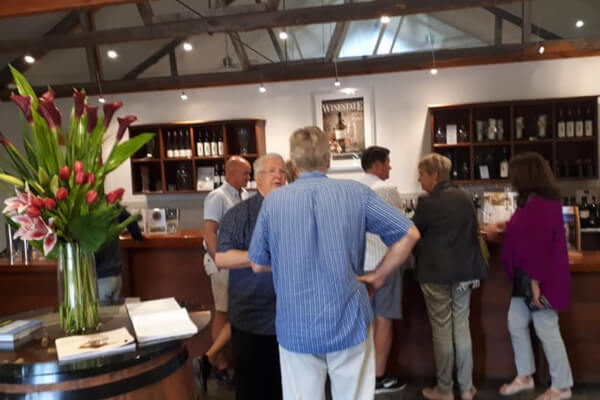 Image is of Lake Breeze Wines taken on one of our Langhorne Creek wine tours.
Wine Type Grown

Top Wine Varieties
Cabernet Sauvignon and blends

Shiraz and blends

Langhorne Creek Wineries
Often overlooked, on the Fleurieu Peninsula about 70km from Adelaide, you will find Langhorne Creek. Significantly cooler than McLaren Vale and Barossa, this region mostly produces red wines. Particularly, Cabernet Sauvignon as its hero. Langhorne Creek is one of Australia's oldest wine regions and has the "oldest documented Cabernet vines in the world".
To highlight the heritage of this region, you can't go past Bleasdale which was established in 1850. They also have an Old Press that you can view which was built in 1892 and has a lever arm weighing 3.5 tonnes!
Lake Breeze also has a wealth of history on their property, but generally speaking, it is a relatively new winery in comparison. Nonetheless they are a powerhouse that also has a bed and breakfast and hosts the Handpicked music and wine festival annually. Similarly, Angas Plains Wines also hosts music, has accommodation and food options.
Finally, there is Bremerton Wines which also offers platters and gourmet pizza for lunch. A wine tour to here is special because you can try wines that are only available from the cellar door. 
For more details on the Langhorne Creek wine region, visit Langhorne Creek or Wine Australia.
Choose Touring Adelaide South Australia to take you on a wine tour of Langhorne Creek wineries.
McLaren Vale Wineries
This region boundaries between 30 kilometres of beautiful coastline and landscapes. McLaren Vale is known primarily for its Shiraz but they also offer a range of wine varieties.
Each region has its history and for that, we can't overlook Hardys Wines which was established back in 1853. Their home is the Hardys Tintara Cellar Door which celebrates their history and offers an exclusive cellar door range. On that note, Hugh Hamilton Wines is another historic winery on the list. "The Bloodline Tasting" follows the red thread of their lineage over six generations.
Whereas Samuel's Gorge hasn't been around for generations, their shed was built in 1853. The thing we love most about coming here is their relaxed atmosphere. They have an open air winery which they encourage visitors to explore. Nearby there is the quirky Mollydooker Wines; they have a retro-themed tasting room!
If you are looking for accommodation, Chapel Hill has chalet-style accommodation. Or for wineries that also offer locally sourced food, you can get sharing platters and pizza at Lloyd Brothers, or you can build your own platter at Hugo Wines; their cellar door has views of the vineyard and coastline. Finally, if you are looking for an intimate setting, we suggest Yangarra Estate Vineyard. 
For more details on the McLaren Vale wine region visit McLaren Vale or Wine Australia.
For a 'no fuss' wine tour, contact us to show you the McLaren Vale wineries on a wine tour from Adelaide.
The 18 wine regions of South Australia include:
Adelaide Hills
Adelaide Plains
Barossa Valley
Clare Valley
Coonawarra
Currency Creek
Eden Valley
Kangaroo Island
Langhorne Creek
McLaren Vale
Mount Benson
Mount Gambier
Padthaway
Riverland
Robe
Southern Fleurieu
Southern Flinders Ranges

Wrattonbully
Touring Adelaide
South Australia

Phone: 0405 389 491 (7 days)
Email: touringadelaidesa@gmail.com
Mount Barker, South Australia
ABN 84 027 415 543